AUDI A4 CAR RENTAL IN CHENNAI
Looking for Audi A4 Car Rental?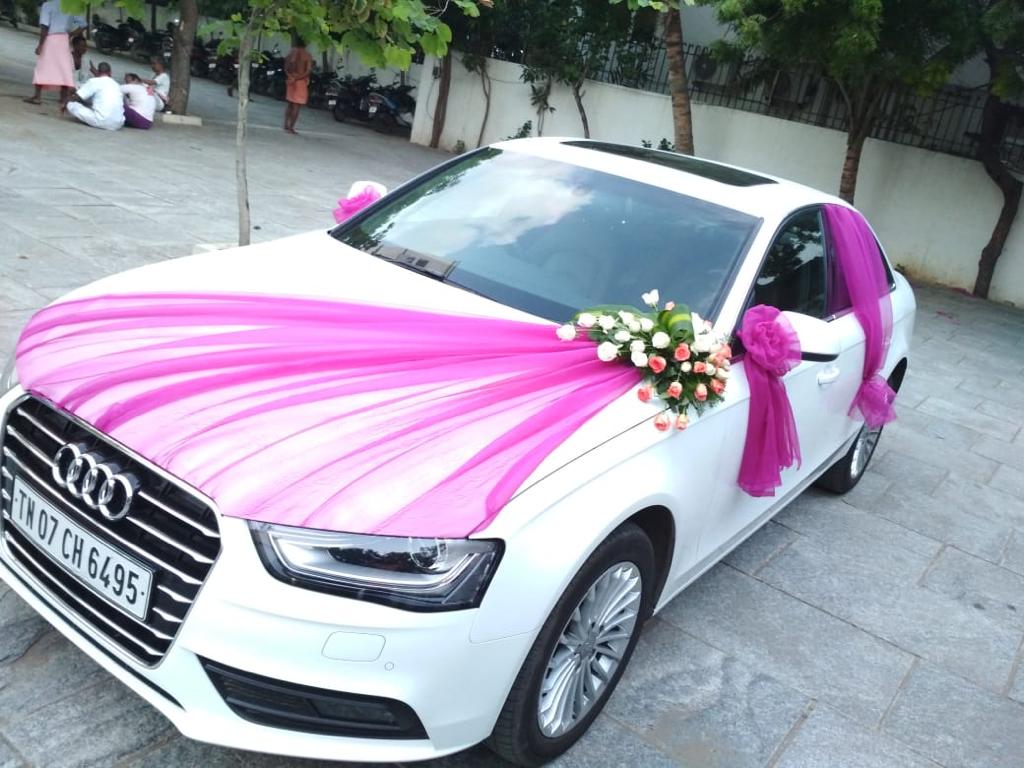 [contact-form-7 id="29230" title="Contact form 1"]
Audi A4 Car is the new face of luxury, with updated design, and performance. Particularly, the name Audi is often identified with high quality.  As can be seen from the cutting-edge design to next-level luxury. Since Audi has compatible at any rate behind the top of the deluxe automobile game. Especially, this car looks are very good, has more space inside. At the same time smart technology also.We maintain strict tariff rates despite of petrol/diesel cost. Our customer satisfaction is important.
Audi A4 Car Rental - Pricing
Metropolis Trip
Convey Amount

Periodic Package 

8 –  Hours and   Km  – 80

9000

Bridal Package

8 – Hours and  Km – 80

10,000

Additional Hours

(Above 8 – Hours)

850

Additional Km

Above coverage

100
Wedding Decoration Price – Basic
1500

Out  Station Trip

Convey Amount

Price / Kilometers
90
Drivers Tariff
500
Schedule day
400
Audi A4 Car Rental - Bridal Collections
While cherry-picking your flexible Bridal Car Rental collections with us. And Also groove on your ride with your family and friends. Hence, Sri Ram Cars assist in Bridal Car Rental services in Chennai. Hire a Luxury Audi A4 Car we provide the excessively stylish and facilities.
This car is one of those historic vehicles, as well as that, is enough to stand by the model name alone.
All in all, A4 takes that richly deserved renown to new levels and replaces itself as the new standard for luxury on the whole, while a fresh new design and a modernized capability and smart features are included.
Especially feel the power and experience the luxury cabin, at this instant you will experience it once in a while. For that, we will help you to move forward.
audi a4 car rental Luxury Cabin
An A4 Car generally flying capability and power on the outside convey to equal extent comfort and convenience. In addition to thoughtful details, even more, high-quality materials, and up-to-date in-car technology.
Especially, Premium leather seating with variation filling enlarges a level of accuracy that  Audi can offer while obtainable.
Ambient LED lighting offers color choices that added style and atmosphere to the  A4 luxury cabin. Finally, this time the back split-folding and rear seating offer push-button back end space to fit everything from baggage to carving.
Generally, ultra-luxury has a piece of highly ultra-modern music and information system at this instant for the next-generation automation creation. 
In another case, the radio, CD, DVD player with the privilege to connect USB devices and connect exterior devices through Aux-in and Bluetooth.
Similarly, the new generation music system gave that just about similar features together with powerful eight speakers. By the time Audi sound system makes it special in its section.
Although this may be true the Audi A4 sits at the top of our luxury thick sports classification in its delightful driving experience. Overall, the standard engine together with a four-cylinder that is paired with a seven-speed, dual-clutch automatic conveyance is present at this time.
Formerly, the interior fit and finish are accomplished, and the front seats are comfortable though the back-end seat is close. As much as a fully digital instrument panel exhibit material instruction all are included at this time in front of the driver.
To clarify the complete way and the center screen is united with Android Auto and Apple CarPlay. Moreover, the interior fitting and conclusion are excellent and the front seats are cozy although the back end was stiff.
As a result, the Audi A4 opens out to take equally important, even glossy, and more optimistic design.
Identically, this illustrates things to a greater extent available with energetic model design. LED headlights and taillights that blink light smoothly from left to right.
Therefore, this intention of the all-wheel-drive offers superior flexibility. And smooth handling while you push the accessibility also.  Such has a dual-clutch transmission to that end.
Hire Audi A4 for a day we have tailored special packages for the customer benefits.
Audi A4 Car Rental New Features
While A4 doesn't stay in the letters. After all, Audi wearing the same understated and traditional look as before. On the whole, it may not look brand-new electric, at the present time. Overcome with the A4 remarkable section as can be seen clean. At the same time, a strong body with plenty of interesting details is significantly in a true Audi.
audi a4 car rental Safety
This car provided pretty well standard. In general, you will get six airbags, anti-lock brakes, traction, and stability control.
Most importantly A4 included more security also, cruise control. Altogether reversing sensors help you to park.
The pop-up cover to protect,  for that reason we will not hit any walker by mistake. On the positive side, one most important system was the break.
Given that, for you to avoid crashes around town. In the same fashion, there are a huge number of active systems were there in A4. You can choose from the options list finally.
audi a4 car rental Performance
There are a whole bunch of engines available in the A4. Since, the car has a powerful performance, not a cruel powertrain.
Its ride effect a fine balance between comfort and sportiness. In short, Audi provides gentle road manners and sharp handling.
Basically, this vehicle beat a good balance between comfort and flow. Ride quality stays gentle over the harsh roads.
While strong brakes and energetic handling will help even more fun to drive. Certainly, all versions of the A4 handle are expected and also stable.
Audi A4 provided a better balance while handling. Even though attention with the sharper-handling rivals if that's your main priority.
Similarly, the A4 Audi features are a seven-speed automatic transmission double. Due to a turbo-four engine that puts out 188 horsepower in front-wheel-drive models.
Thereafter 248 horsepower in all-wheel-drive models. Generally, Audi A4 with front-wheel drive gets an EPA-estimated. 27 mpg in the city and 34 mpg on the highway.
This luxurious car has handsome featuring sharp-looking headlights. After all, a large grille, and attractive bodywork specific such as the creased bonnet.
Furthermore, the entry-level Audi A4 technology features 17-inch alloy wheels in a 10-display design.
It also has LED headlights and attractive features trim around the network and windows. However even as a base model and it's also sharp-looking.
The Audi is celebrated for its high-quality interiors. The dashboard design was very simple and easy to navigate, with the most activity, being operated through the information system. The group of buttons and dials that one controlled the system has been restored by an annexation that's fully touchscreen. After that driving position is now comfortable and easy, and all-around visibility is clearer than it may rival too. High transmission in the tunnel eats the most part amount of foot space across the back row, so carrying three in the back might be a major bit of a carry-off.
Features
The amount of standard equipment you may get is greatly improved specifically at the same time. In order to be arrested the optional Technology Pack presents three-zone climate control, cruise control, an electric boot lid release also, and a decent information system may also be included in this.
Altogether Audi has a sat-nav, heated front seats, digital instruments, and a reversing camera, analogous is in the A4. Furthermore upgraded to sports edge obtain leather upholstery, LED interior lighting, sports seats, and a rather different interior finish, while S line edge gives you lots in the way of fashion increase.
If you to want an exotic ride hire Audi A4 with us.
Frequently Asked Question
Excellent Communication – Great service, very professional, Highly recommended. They are all very friendly, professional, and even more helpful. Sri Ram Cars Rental services were very patient, professional and they gave us many options. you won't find pushy for rent or hire a car. Thank you so much and keep it up.
Highly Recommend – Finally we decided to check out with the Sri Ram Cars for Audi A4 Car rental. Frequent of very clean cars to choose by the time. They gave me a great trade-in price and pack for rental off with me gently.
 Decorated Audi A4 – They sent a decorated Audi A4 with a driver and they were in good time. They have the best luxurious cars. Really professional people to deal with us and the booking was also done very well ordered. We really liked their contact what they transaction with us.
Audi A4 Car Rental - Gallery
Book a special Wedding Car for your special day. Sri Ram Cars provides all credibility luxury rental cars for your unique. We also organize flower decorations at sensible prices for that. You will get complete flexibility to plan your specialized day.
Audi A4 Car Rental - Ride
We have a large section of wedding car rental, Hire now our Audi A4 Car rental at Sri Ram cars. People love to explore and we help them to do. We giving the wings to fly on road.