AUDI A6 CAR RENTAL in chennai
Looking for an Audi A6 Car Rental?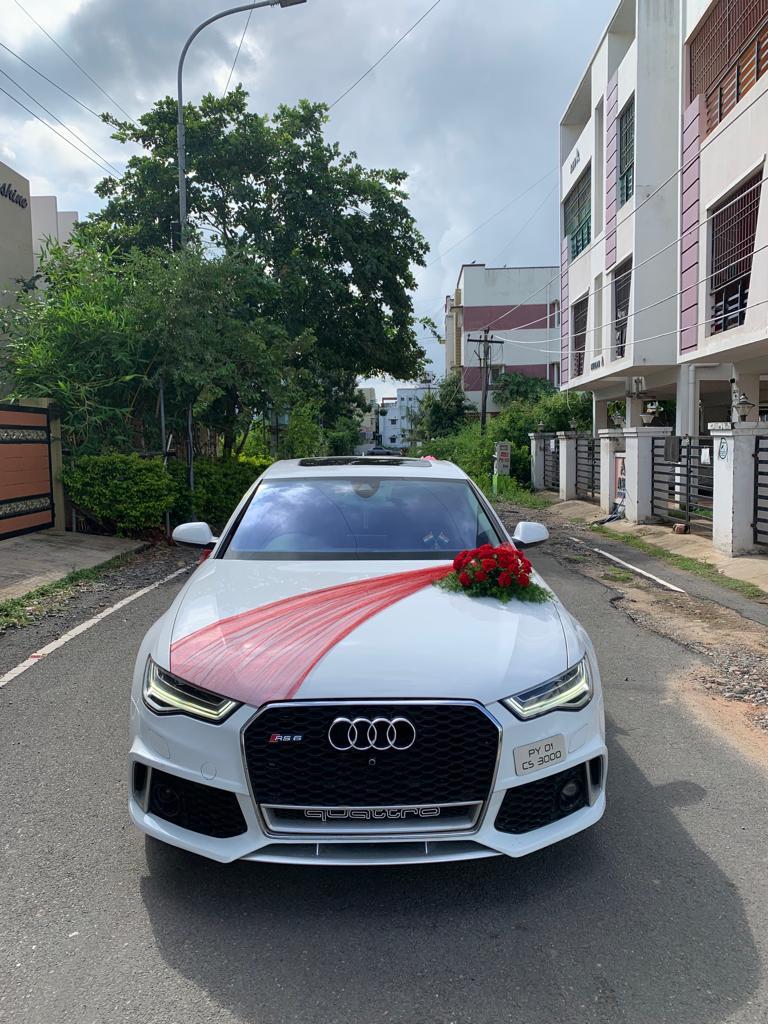 [contact-form-7 id="29230" title="Contact form 1"]
Luxury cars that have better feathers. After all improvements in the power of the engine and the stylish look of the car. The power of the engine is based on the purpose of the car, as the result, luxury cars have large surveys, big displays, self-driving capability, automatic climate control, more than 6 airbags, high-quality base speakers. The car's stylish look sleek design makes the car look premium.
Customers No 1. car Audi because of the design. For that reason plays an innermost role in the improvement of the new models. The Audi A6 design language is continuing and highly affectional. It was clear that the automation capability and condition claim of the label were impeccable.
Audi inventors are taking everything your thought you knew about a vehicle's safety characteristics and building up the game entirely. The new Audi A6 Feathers technology helps you to see the feature in low-light quality and notice you upon determination. Enjoy much more with Audi A6.  Your peace of mind was important all day.
The interior of the new Audi A6 is like stepping into a different world. Escape reality and sink into the leather seats of the A6 with countless. Adjustable, the front seats will be customizable with a surrounding dashboard and a sunroof for a breath of fresh air. 
The Audi A6 has one petrol engine. As well as the engine is 1984 cc. It is available with Automatic transmission. Depending upon the variant fuel type, the A6 has a mileage of 14.11 kilometers per liter and also has 5 seater4 cylinders and has a length of 4939mm, a width of 2110mm, and a wheelbase of 2924mm.
At the instant, this Audi had specifications of CD, Wireless Phone Charging, USB & Auxiliary input, Bluetooth, Wi-Fi Connectivity, Radio, Front & Rear Speakers, Integrated 2DIN Audio, compass, touch screen, Android Auto, Apple Car Play, Rear Entertainment System all these are included in this Audi.
Specifications of the music system
On the other hand, the Audi A6 was good-looking, for this generation. Basically, it will make the people comfortable. Inside the cabin, it offers premium experiences envy the high-tech setup.  It will refine a very comfortable journey. Hire the Audi a6 car rental with Sri Ram Cars.
Audi A6 Car Rental Pricing
Metropolis Trip
Convey Amount

Periodic Package 

8 –  Hours and   Km  – 80

9050

Bridal Package

8 – Hours and  Km – 80

10,000

Additional Hours

(Above 8 – Hours)

850

Additional Km

Above coverage

90
Wedding Decoration Price – Basic
1800

Out  Station Trip

Convey Amount

Price / Kilometers
90
Drivers Tariff
450
Schedule day
400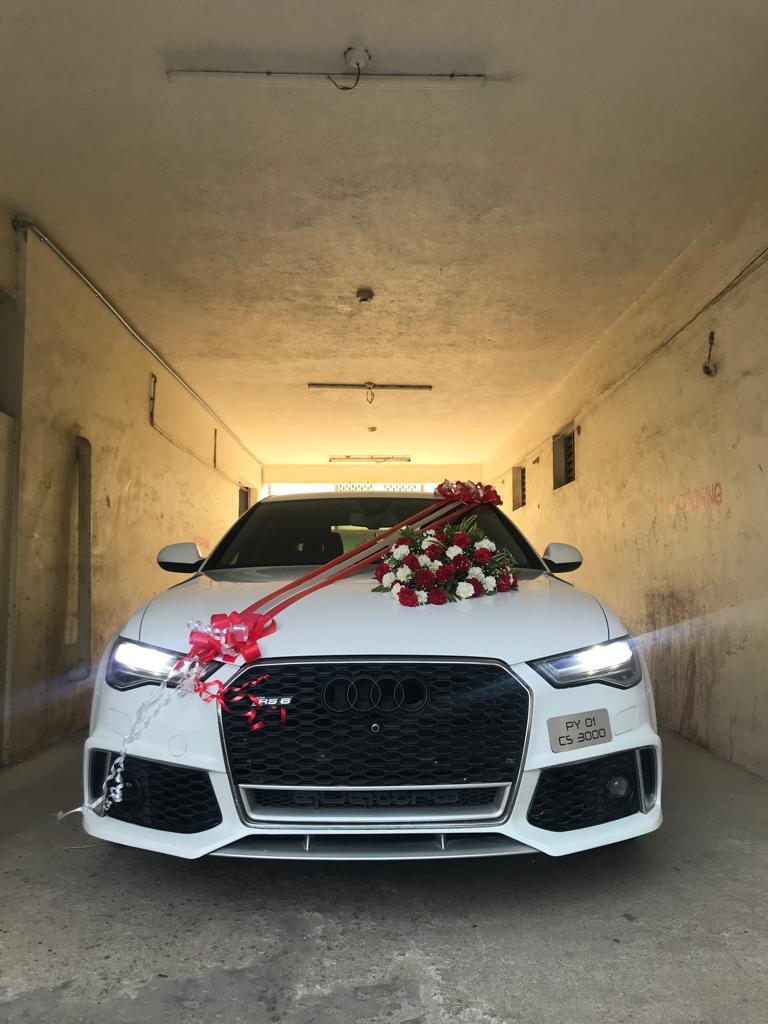 Audi A6 Car Rental Collections
All our travel facilities will help you even more fulfillment and memorable life events. We are trying our level best on your request and we are here to offer you the fashion Audi A6 car variants to make your wedding occasion even more colorful. We have customised packages to hire Audi A6 for a day.
New Features Audi A6 Car Rental
By all means, a number of creative and also modern luxury cars are comfier, more protected, and more stimulating to drive. Ti will be the right choice for You with Audi A6 car rental with Sriram Rental Cars. Hire us for your luxury ride and make memories.
Active Suspension
Active interruption is a great feature. That operates sensors to adjudge the hardness of road dips and bumps, henceforth activating a series of electric motors that adjust the vehicle's height to a more comfortable one on those roads that were imperfections.
Ventilated Seats
Heated seats are an accessible must in the cold climate. Our area also gets some pretty hot and humid weather come the summer months. At that time you don't want attributes to keep you warm, you want attributes to keep you cool and comfortable. Ventilated seats of luxury cars answer that issue. These special features bring full climate control, for drivers, and passengers. By all means, more comfort and less impel air conditioning seats will stay cooler continued for your journey.
3-Zone Automatic Climate Control
Ventilated seats are only for the beginning of climate control. These new vehicles now offer rear passengers the ability to contain the temperature and the degree, the air coming out from the rear-determine avenue. In Addition, the driver and the front-seat passenger will have two special provinces that feature touch-sensitive controls for the best comfort.
Dynamic Steering
Dynamic steering will be launched in the Audi. And the designed to make direction the luxury feel more essential and intuitive. At the same time, the variable-ratio administration unit alters how much force the driver needs to use to turn the wheel, basing that force on vehicle speed and other vehicle observation structures.
Smart Ambient Lighting
A special new environment ambient system that not only offers in new Audi A6 car more than that dozen interior colors to choose from. But it can also be linked to the vehicle's deficiency moral classification. This means that should you park and open the door, the interior door lighting will flash a red alert in your car, cyclist, or cognate object about to pass. This narration will help warn your vehicle, or yourself.
Semi-Autonomous Driving
Deficiency warning is not the only decorative tech system included in luxury cars. The latest Audi will come with a suite of semi-autonomous driving systems that are known to make driving a whole lot smooth, less stressful, and much safer.
Frequently Asked Question Audi A6 Car Rental
What Customer Say About Us

What a great experience! They are warm, friendly also helpful but not at all forceful in the face. Audi car Rental really listens to what the customer needs and wants, and follow-up skills are top-level!
It was a pleasure dealing with you, and the fashion in which you have to connect with me is GREAT. I had an extremely satisfying experience with Hiring Audi A6 the most enjoyable of all the cars that I have.
You guys should seriously consider providing professional and friendly customer service. We enjoyed our experience and we will be back to Hire the Audi A6 car for my every Audi rental booking.
Gallery Audi A6 Cars Rental
The wedding happens once in a lifetime and everyone wishes to have switch out a majesty way and your desires are satisfied.  All our vehicles are maintained decently to meet your entire travel needs. For the most part, we are there with you to give your occasion equally important, what you need.
Wedding Audi A6 Car Rental
The outstanding and unique day needs a great start and an extraordinary journey to your wedding destination. We are strong believers in the fact that the journey should be more delightful and essential than the destination. Hire Audi A6 Car For that reason.