Looking for a Rental Car? Hire Benz V – Class Rental from Sri Ram Cars.
[contact-form-7 id="29230" title="Contact form 1"]
Special Occasion with Rental Car Benz V – Class
The Mercedes-Benz V Class, often known as the Mercedes-Benz Vito, is a light commercial van manufactured by Mercedes-Benz in Germany. To put it another way, the Mercedes V Class is a big MPV. In 1996, Mercedes-Benz released the first iteration of the V Class.
In 2004, the second generation was introduced and given the name Viano. To repeat, in 2010, the vehicle received a facelift that included new front and rear bumpers.
To that end, the Mercedes-Benz V Class was renamed with the third generation, which debuted in 2014. All things considered, the Mercedes V-Class is available with both rear and four-wheel drive.
During the years 1996-2003, the first Mercedes-Benz V Class, then known as the Vito, was sold. Although it had a four-wheel-drive drivetrain, it was either driven by a diesel or petrol engine. Another key point is that the V-Klasse is a more prosperous and expensive variant of this car.
Correspondingly it was available with the same body style. Michael Mauer designed the first-generation Mercedes V Class from 1989 to 1991, after the design was adopted in 1993.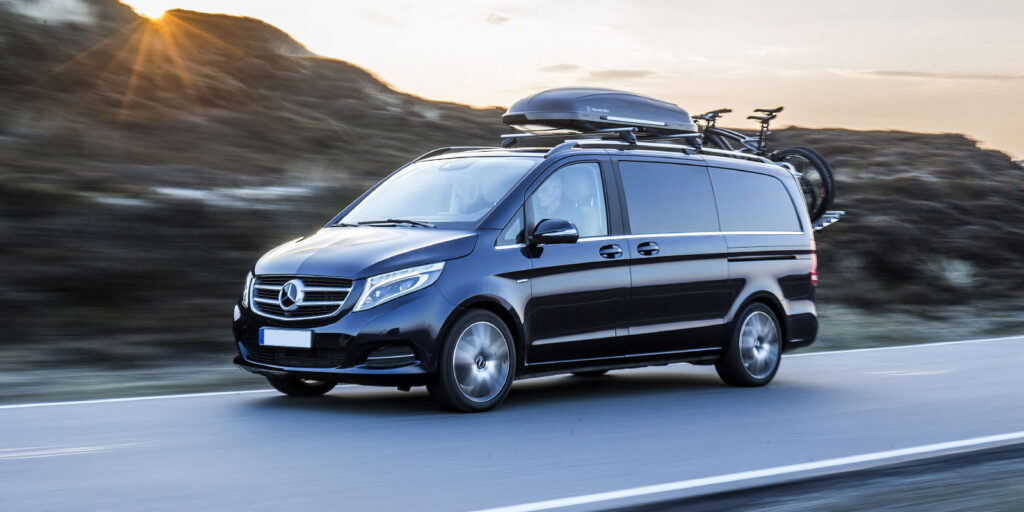 Comfortable Travel In Rental Car
Particularly the Mercedes-Benz V Class is an automobile with a personality all its own. Important to realize the vehicle provides ample capacity for comfortable travel. The motorized sliding door on the V-Class opens and closes at the press of a button.
A radio remote control can correspondingly be used to operate the sliding door. In conclusion Expression, ELWB, Exclusive LWB, Elite, Marco Polo Horizon, and Marco Polo Horizon are the Mercedes-Benz V-Class variations.
The Exclusive LWB has a 7.0-inch Mercedes-Benz COMAND display, analogue dials comparable to the C-Class, heated and cooled seats, two USB ports in the front, and a 15-speaker Burmester music system as an option. The Mercedes-Benz V-Class is not only comfortable but also powerful.
In like manner, the V Class Blue efficiency generates 120kW of power and speeds from zero to 100 kilometers per hour in just 10.9 seconds. As a matter of fact, this engine's combination with the 7G TRONIC transmission smooths down your ride even further
In the first place, the Mercedes-Benz V-Class is a massive MPV. Thereupon it has a boxy shape and resembles a rectangular box on wheels. Regardless, the Mercedes-Benz V-Class new model attracts attention.
Similarly, the dual-slat grille, three-pointed star insignia, and hefty headlights all contribute to the overall charm. It has a slab-sided design, in order that the 17-inch wheels lack any sort of flare. At the same time, the V220d has a high-torque 4-cylinder engine that generates a lot of pressure even at low speeds.
As a result, the car provides an extra boost of acceleration while overtaking. Even though the Mercedes-Benz V Class is equipped with an LED intelligent light system, it enhances the driver's eyesight. In either case, these lights can alter the road surface illumination depending on the driving circumstances.
The Mercedes-Benz V-interiors Class's are just as spectacular as its exteriors. Following Nappa leather multifunction steering wheel and shift lever, leather finish dashboard, whereas cup holders are just a few of the features. In other words the automatic climate control system THERMOTRONIC is also standard on the V Class.
Luxury Technology
At first, it has enough space to carry everything you need. Especially the car's independent opening rear window is a showpiece. By the time the EASY-PACK tailgate allows you to open and close it with a single button touch.
 For this reason, the V-luxurious Class's interior could become your new favorite living space. Given that, the Mercedes V Class provides an exceptional driving experience.
In any event, the Mercedes V Class sets the standard in this market with clever features and safety technology. Shortly the V Class's folding doors are controlled via a radio remote control.
Further, the door's mechanism is smooth, and it closes without causing any vibrations.
In India, the V 220 is significantly the entry-level model of the formidable Mercedes-Benz V Class. Also, it offers luxury, comfort, and enough space to fit practically anything. Another key point is that this vehicle's design is distinctive, and it was created to celebrate the excitement and passion that life has to offer.
Equally important, the Mercedes-Benz V Class is truly a car that lives up to its name. The V-Class Marco Polo is the top-of-the-line model available in India. By that time, the Mercedes-Benz V 220 elite belong to the Mercedes-Benz V Class's comfort and luxury offering class. Different from others, this class is specifically recognized for its luxury and offers much more than just driving enjoyment. 
Mercedes Benz- V Class Models
Features Benz- V Class Rental
In the V-Class, every mile will be a pleasure. Surprisingly it makes family vacations and work trips even more enjoyable. At any rate, the V-Class is the ideal method to transport up to eight people plus luggage.
Eventually, it offers a sheer joy of life to the roads with its previously demonstrated supremacy in driving pleasure and dynamism. In fact your plans, the V-class has a wealth of useful amenities that guarantee you enjoy every mile you go
Advantages Benz - V Class Rental
The Mercedes V Class has a BS-VI four-cylinder diesel engine that generates a lot of pressure even at moderate speeds.
Significantly the Sportier Grille design provides the automobile a more sophisticated and contemporary appearance.
The LED Intelligent Light System enhances the driver's eyesight, increasing his or her safety.
The V-Class features everything you need in a car, even if including an Audio 20 USB multimedia system and luxurious Black Lugano Leather upholstery.
The V Class's Table Package makes it easy for back-seat passengers to spend time together.
Mercedes Me connect allows you to communicate with your vehicle from anywhere in the globe and receive assistance at the touch of a button.
The Mercedes-Benz V Class's Burmester Surround Sound System features 15 performance speakers as well as a bass reflex system.
When entering or exiting a parking place, the Active Parking Assist with 360-degree camera will assist the driver in finding a parking space.
On board, the THERMOTRONIC automated climate control system with three climate zones and three climate types creates an individual feel-good environment.
Interior Benz - V Class Rental
It feels under-equipped for a car that costs as much as the Mercedes-Benz V-Class on the road, especially in the lower-spec variants. Mercedes-Benz, on the other hand, has ensured that the seats, at least in the Marco Polo models, are nothing short of thrones.
The Exclusive LWB edition, which we tested, has a dual-tone dashboard with a black top and a beige bottom. As an illustration in the center is the wooden inlay that separates them. Concurrently the controls are on the lower side, with the 7.0-inch touchscreen in the middle.
Spacing Benz -V Class Rental
The interior's primary talking point is the second and third rows, which are as adaptable as they come. The seats may be adjusted in a variety of ways. If you wish to turn the V-Class into a mobile office, in that case, you can flip the second row to face the third-row occupants. In conclusion, the doors are powered by electricity and can be opened and closed with the touch of a button.
Benz - V Class Rental Engine
In the final analysis, two diesel engines will be available in the 2020 V-Class. A 2.2-liter four-cylinder diesel engine with 160bhp whereas 380Nm of torque powers the entry-level models. As standard, it is equipped with a 7-speed automatic transmission.
Starting with the Elite, higher variants have a 2.0-liter four-cylinder diesel engine that delivers 161bhp and 380Nm of torque. All in all, this engine is coupled to a torque converter automatic gearbox with 9 speeds.
Benz - V Class Rental Specifications
Presently Sri Ram Cars aspire to provide exceptional car rental services to both individuals and businesses. Hence we've created a name for ourselves in the self-driving car market over time.
In other words, we've created a name for ourselves in the self-drive automobile rental industry by equally providing excellent service to a huge number of consumers. Likewise, our professionally managed company believes in providing high-quality services at a reasonable cost.
Overall it is making conscious efforts to achieve client satisfaction and still upholding the highest standards in its service offerings.
Performance Benz - V Class Rental
We at Sri Ram Cars have a variety of cars accessible for day-to-day or trip rental. First thing to remember our fleet of cars is available to you at any time and in any location, even though you have been notified in advance or the day before. Undoubtedly Sri Ram Cars are concerned about your safety, so every vehicle in our fleet is equipped with GPS, which provides an added benefit in that the car may be traced at any time.
In the first place, you can enjoy your ride without worrying about uncertainties with our Benz V-Class. In a similar fashion, we have a customer service number that is available 24 hours a day, seven days a week, to keep in touch with our clients and soon deliver the most professional services possible.
Budget Friendly Benz - V Class Rental
Comparatively, with a fleet of over a hundred vehicles of various brands and types, Sri Ram Cars offers customers a diverse range of travel alternatives.
Moreover, our fleet is the chosen one to meet the requirements of mostly corporate or business people, also for travelers with family, and friends.
Accordingly, we have a car to accommodate every budget and type of travel, whether solo or in a group.