Looking for Audi A8 Car Rental? Sri Ram Cars have our Audi A8 available for the following
[contact-form-7 id="29230" title="Contact form 1"]
Special Occasion with Our Audi A8 Car Rental
Audi A8 Car Rental for special occasions. At the present time a fantastic luxury car to light up your special occasion firstly. By the time undoubtedly the Audi A8 car for rent is a perfect solution overall. Try and taste the experience of this Chauffeured Audi A8 Sedan similarly. Hire from Sri Ram Cars for your wedding or personal tour at first. Forthwith take to the highways in this chauffeured luxury car obviously. Henceforth this car has a personality that is similar in fashion to yours.
Luxury Audi A8 Car Rental
Presently, the Audi A8 is a luxury sedan recognized as one of the best. Especially, its class and has a solid reputation among luxury sedans firstly. In either case, it has plenty of legroom and high-tech devices.
Significantly everything else you'd expect from a full-size luxury car surely. In conclusion, if you're seeking a classy luxury car hire, from Sri Ram Cars. Thereupon, Audi A8—is the ideal option now. If you are looking for a premium car ride then Sri Ram cars is the right place.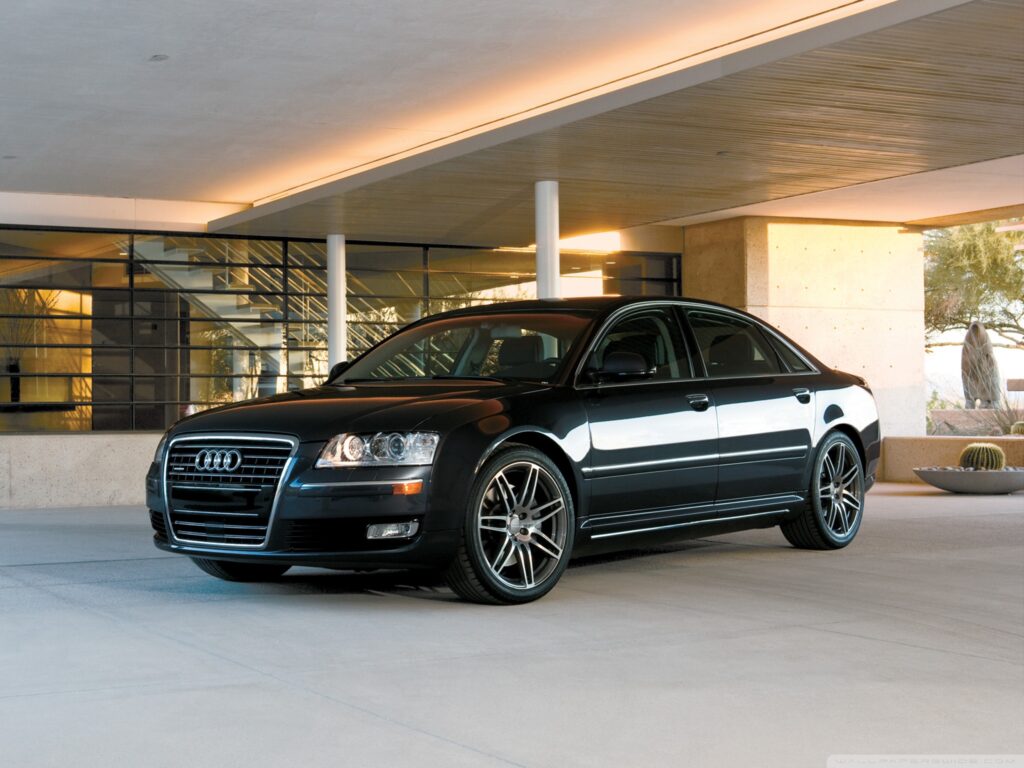 The Audi A8 is a blend of eye-catching luxury and cutting-edge technology of course. That combine to offer an experience rich in refinement this time. Another key point is that Audi has long been known for its interior design prowess instead.
So far the A8 lives true to that legacy with luxurious materials. And also a dignified layout for instance. In detail, there's enough room for five people to sit comfortably formerly. Additionally, a slew of optional extras elevates the cabin experience to first-class status.
Hire Audi A8 in sri ram cars for a day we follow tariff strictly to meet our customer requirements.
Audi A8 sedan comes attached with the base six-cylinder engine formerly. That will get 19 mpg in the city and 28 mpg on the interstate forthwith. So, we won't be able to assess the Audi A8's real-world mpg until we put it on emphatically. Our 75-mph highway fuel economy route is part of our lengthy testing overall. Audi A8 will definitely gives an exoctic ride that you have never expirenced before.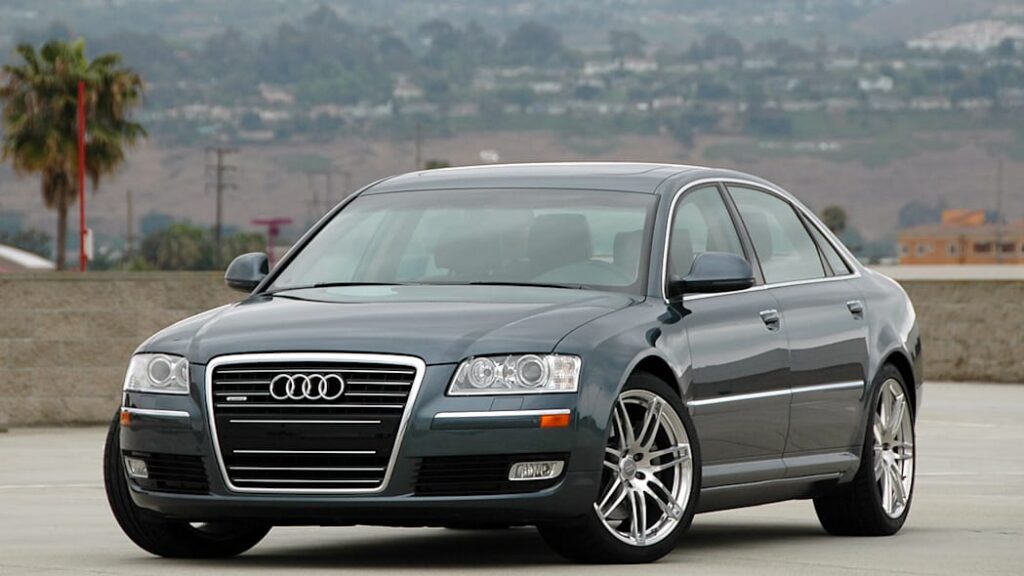 Audi A8 Car Rental Availability
Wedding & Photo shoot With Rental A8 Audi
Sri Ram Cars in Chennai provides the best luxury wedding transportation at this instant. Following, each journey, our vehicles are thoroughly inspected. That is to say, we ensure that they are in good working order all in all.
Provided that, we clarify after that the quality of the likewise rides then again. Then the ride will be superior to conclude. On the whole, each vehicle is thoroughly inspected to ensure. Because there will be no unpleasant surprises at the last minute overall. In Sri Ram cars we will provide neat and humble services to our clients.
Hire Audi For Travel & Tours
Sri Ram Cars also provide customized tour packages for our VIP clients. Together with employees to adjacent destinations then again. By all means, make a reservation with us for your travel and also transportation needs.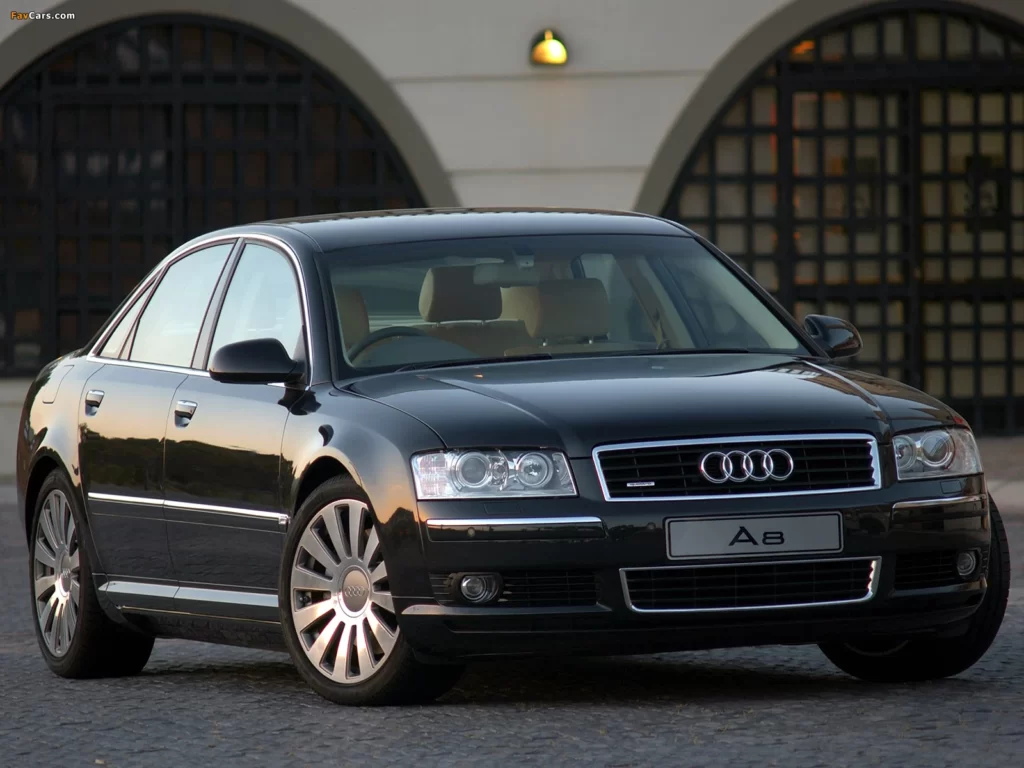 VIP Transportation & Corporate
At the present time, corporates in India frequently in this case. So that struggle to find a dependable yet in fact. Such as cost-effective transportation partners to meet their demands. Now that for both guests and workmen.
In this situation, Sri Ram Cars provides timely services to meet your travel and transportation demands. For your VIPs and guests, we offer professional cab amenities on time.
Vacation Travel With Rental Car A8
Celebrities require a mode of transportation especially. That reflects their brand value at this time. Different from others, we are aware of any modest support eventually. Altogether they may need it on their journey and are happy to provide it. 
To conclude, Sri Ram Cars is a well-known travel company certainly. Markedly with a fleet of luxury, executive SUVs, coaches, minivans, and also premium cars. Henceforth unlike other firms in the industry even more. Specifically, we've been servicing our clients with the goal of complete customer satisfaction. Also, we follow the Customer First policy indeed. What's even more, we are highly concerned about the quality of our fleets at Sri Ram Cars. So we provide neat, clean, and well-maintained vehicles with while well-trained drivers.
Trained Drivers With Our Rental A8 Audi
We provide that chauffeured car rental at Sri Ram Cars. Forthwith all of our vehicles are licensed and also insured. Specifically, all of our drivers have received traffic-jam training generally. Equally familiar with the roads in the area where you wish to travel lastly. However, they are pleasant and well-mannered in their encounters markedly. Instead and they are well-versed in both local and also outstation routes fourthly. Furthermore, we verify the relevant paperwork regularly. Henceforth ensure that your journey is safe, secure, and timely thereafter.
Audi A8 Car Rental Fashion
In summary, if you want to go above and beyond, we have unique choices. Further, take a look at our diverse selection of automobiles even though. Tourists who wish to make a fashion statement on their vacation can choose obviously. From our large variety of luxury cars, for example, the Audi A8 certainly. 
To point out, our Audi luxury car rental fleet includes cutting-edge models all in all. Thus, choose and rent an Audi car for occasions formerly. Such as weddings, receptions, photoshoots, corporate events, and also business meetings. Finally, fill out the online quotations form with the necessary information for bookings.
Particularly, Sri Ram Cars' vehicles are meticulously kept and chauffeured by competent. Explicitly, courteous, and well-mannered uniformed driver especially. Markedly who carries a working cell phone generally. In detail, all of our fleets are GPS enabled for safety reasons basically. Which has the extra benefit of allowing the vehicle to be tracked at any time. We also have a state-of-the-art run-back room open 24 hours a day. And seven days a week, for seamlessly collaborating after all. With our clients to give the best and most important professional quality services.
Affordable Price For Rental
While, in Chennai, you may rent an Audi A8 for a low price instead. In the first place, this luxurious vehicle can accommodate four passengers generally. And two medium-sized baggage overall. Secondly, front airbags, USB, Bluetooth, ABS, and other features are included this time. Rather, the Audi A8 rental price includes comprehensive insurance. Meanwhile, an ordinary mileage restriction is in effect. In any event, our all-inclusive pricing is the most cost-effective and also clear on the market.
Audi A8 Car Rental Performance
The Audi A8 has a 335-horsepower turbocharged V-6 engine. Obviously, supplemented by a 48-volt hybrid system in general. In addition, all-wheel drive and eight-speed automatic transmission are standard in this case.
Besides, on our test track, the Audi A8 went from zero to 60 mph in 5.3 seconds to explain. Significantly, Audi's engine is smooth, but there's no fanfare to its power delivery to illustrate. 
Equally, the sound-deadening measures are so extensive without delay. That to clarify it's virtually inaudible with the windows up then again. In effect, the A8 combines agility and riding comfort distinctively to be sure. Audi way, whereas, standard features include an adjustable air suspension so far. 
Take the case of driver-adjustable adaptive dampers too. Overall, the Audi A8's base suspension shields you from road abnormalities for instance. While still allowing you to smash down a backroad when the whim strikes forthwith.
Audi A8 Car Rental Interior Comfort
Surely, the Audi A8 is known for its generous passenger capacity so far. Equally important is its long wheelbase that ensures the rear seat obviously. And also passengers are comfortably accommodated for instance. Moreover, a four-passenger seating kit is available presently. That eliminates the rear center seat overall. It significantly adds two power-adjustable back seats with heating and ventilation instead. In like fashion, two separate entertainment tablets also. Such as a heated foot-massage function is available on the whole. 
While reducing power adjustments for the front passenger seat formerly. To make room for all that even more. However, stretched leather is one of the many high-quality materials available. Also a small forest's worth of wood inlays. Likewise, the exterior of the Audi A8 and the interior are modest undoubtedly. Since it's a luxury sedan with only 13 cubic feet of trunk space so far.
Luxury Connectivity In Rental Audi
Hence, the 12.3-inch Virtual Cockpit instrument cluster chiefly and the 10.1-inch, higher overall. And even more 8.6-inch lower haptic center screens altogether. Since the MMI Touch Response, as well as technology, is both standards at last. Thus touchscreens manage most functions overall. There is only one volume knob for the music system certainly. At the same time may appear overwhelming and emphatically. But the procedure is quick to respond and highly adjustable moreover. Allowing owners to select their dedicated buttons on the lower screen formerly. 
While providing persistent navigation, weather, phone functions, and radio buttons even so. These are all on the left side of the upper screen simultaneously. In other words, just be aware that trying to remove fingerprints instead. Likewise, wear out the supplied microfiber wipe thereafter. Generally, two USB ports with data so far. While charging capabilities were formerly located in the front. Android Auto and Apple CarPlay phone integration and Amazon Alexa compatibility are instead. As has been noted, Wi-Fi is offered via Audi Connect Plus for an extra monthly charge.
Safety Features Of A8 Car Rental
The A8 is equipped with many driver-assistance even though features like other high-end cars. Hence A8 will especially assist you with acceleration and braking in heavy traffic. Obviously when fitted with Traffic Jam Assist (Driver Assistance package) in effect. But your hands cannot leave the wheel for even more than seconds at this time. 
Forthwith the following are important safety features
Standard Pedestrian Recognition coupled with automated emergency braking.
Henceforth Standard Lane-Departure warning together with lane-keeping assist.
Adaptive cruise control is an available feature given that.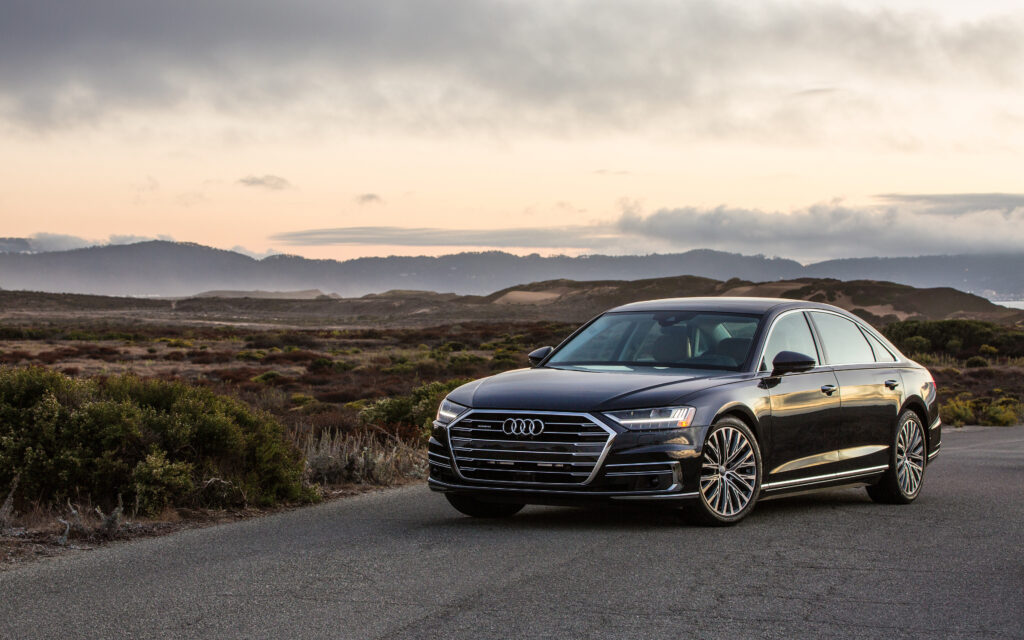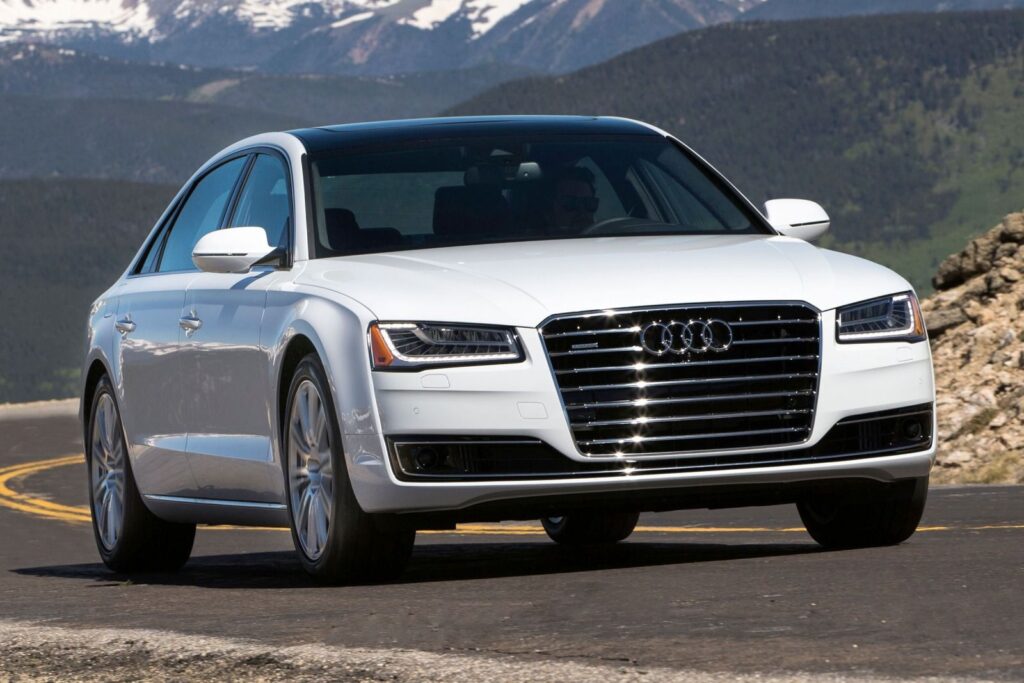 Hiring Audi A8 Car Rental
Unquestionably, the Audi A8 is a luxury vehicle that provides first. Moreover an unrivaled quality travel experience all in all. So as to you arrive at the appropriate location besides. 
Finding a top-quality Audi A8 for rent might be a genuine difficulty at last. In this situation, Sri Ram Cars offers you the opportunity to hire a well-maintained A8. Of course, your pleasure is everything that matters at Sri Ram Cars to be sure.
Up against rent is a super-luxury Audi A8 car that symbolizes versatility and innovation. And customization has become synonymous with the brand overall in the last decade. By comparison, the luxurious Audi car for hire can comfortably in short. After that transport 2 to 4 passengers across long distances albeit. Furthermore allowing tourists to discover new destinations thereafter. 
In the meantime, a premium Audi can be reserved for leisure excursions presently. Explicitly, VIP meetings & conferences, as well as business travels, and also corporate travel. On this occasion, Audi luxury cars can be booked online now. Although for airport pick-up and drop-off, local runs, city tours, and outstation travels.