Sri Ram Cars have our Benz C – Cabriolet Rental available for the following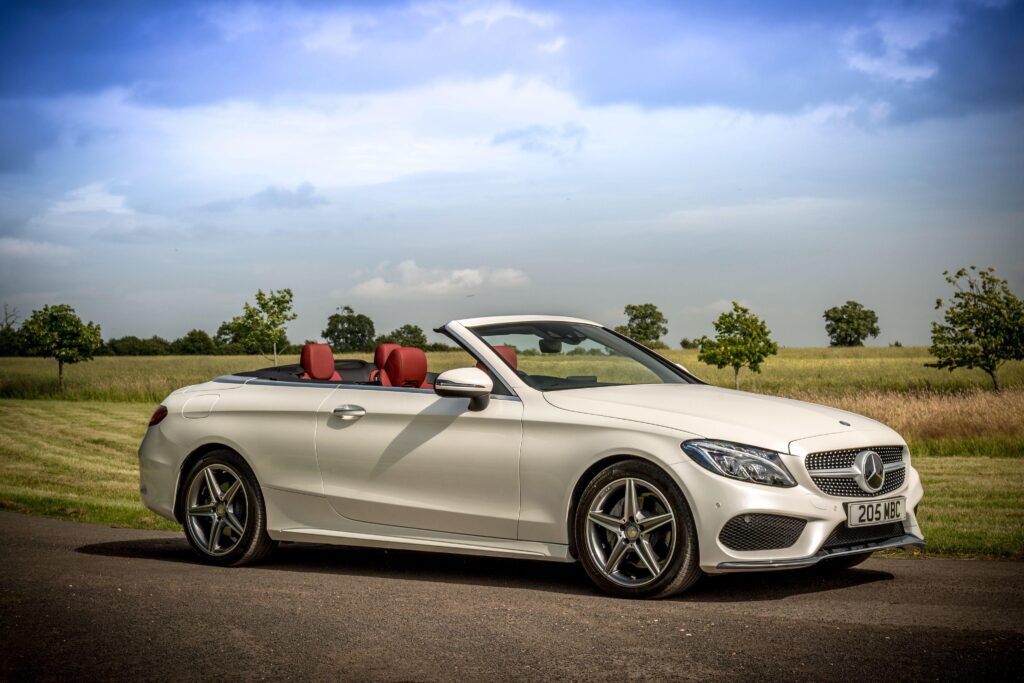 Rental Luxury Benz C - Cabriolet
Overview Rental Car
The Mercedes-Benz C-Class Cabriolet provides outstanding and an excellent open-air luxury. This time, the new C-Class cabriolet has everything that one can expect in a luxury car. Of course, it has revolutionary control and display capabilities with cutting-edge technology, making owning this convertible a unique experience. Most important the new petrol engine together with
AGILITY CONTROL suspension at the stroke of a button gives vital comfort. Thanks to the AIRCAP draught stop and the sun-reflective leather, it's an all-weather car. That is to say, the car's special interior options include new anthracite open-oak wood and brown open-pre walnut wood trim finished.
Rental Service Benz C - Cabriolet
Now that, the new Mercedes-Benz C300 Cabriolet is a work of art and precision. On the whole, the C300 Cabriolet is an exemplary convertible with an impressive style, superior comfort, and advanced safety features.
It has many outstanding features to its credit. It offers excellent features, provided that AIRCAP draught controls, sun-reflecting leather, and updated infotainment.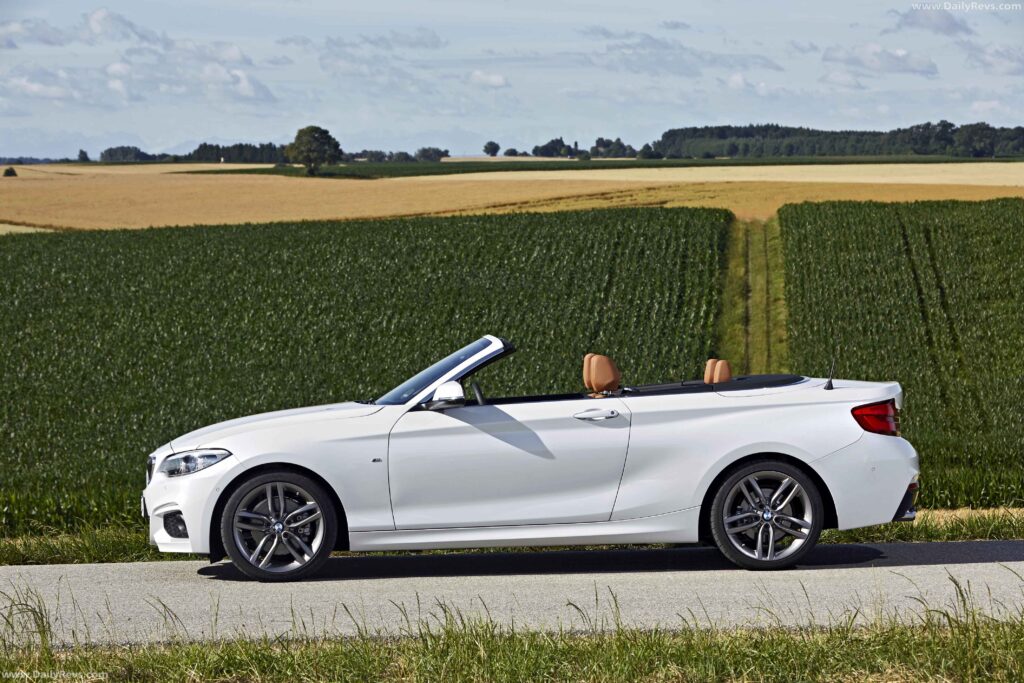 Premium Models Rental Benz C - Cabriolet
Features Of Rental Benz C - Cabriolet
The 64-colour ambient lighting that can be set individually according to requirements and mood transforms the interiors of the new Mercedes-Benz C-Class Cabriolet into a lounge area.
The MULTIBEAM LED headlights enable rapid and exact adaption to change road and traffic situations.
The C-Class Cabriolet's AIRCAP draught stop technology gives a larger airflow arc, reducing draughts and making driving enjoyable in summer and winter.
At the touch of a button, DYNAMIC SELECT modifies the handling characteristics. You can select the drive mode that best suits your driving style from the available selections.
Surround sound and excellent tone in all seats: The Burmester surround sound system provides music fans coupled with an unrivalled experience in this segment.
The reverse camera on this new C-Class delivers an excellent overview seeing that comfort when maneuvering.
The vehicle also includes a smartphone integration package that uses Apple Carplay or Android Auto to link smartphones to the media system.
The completely automatic Acoustic Soft Top will keep you safe and secure like a hardtop.
The Cabriolet also boasts the PRE SAFE technology, which allows the front seat belts to be pre-tensioned electronically in dangerous situations.
Design Benz C - Cabriolet Rental
The Mercedes-Benz C-Cabriolet is inspired by the Mercedes S-Cabrio and is built on the C-Class sedan.
The C-Class has a reputation for being an efficient and comfortable sedan, particularly in Indian circumstances.
The Mercedes-Benz S-Class Cabriolet, on the other hand, is as luxurious and beautiful as convertibles come.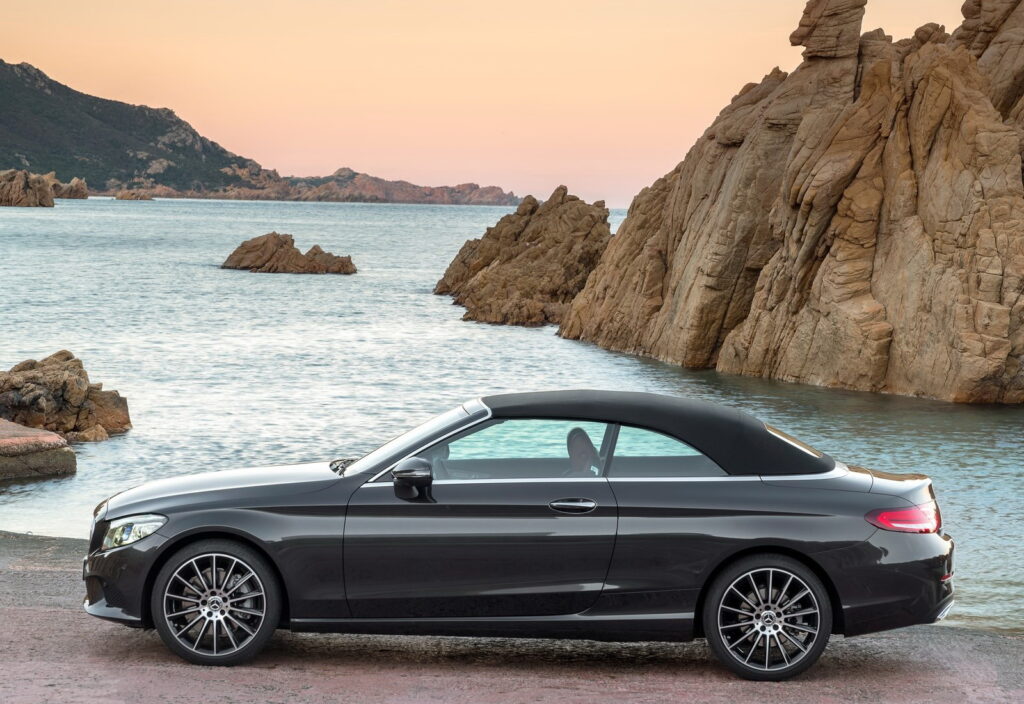 Looks Benz C - Cabriolet Rental
When looking at the C-Cabrio from the front, it is difficult to tell it up against a regular sedan. For that reason, except for the single-slat studded grille, there aren't any. Meanwhile, it's not that it's a terrible thing; it's just that it looks too similar at first glance to be noticed.
On the outside, however, that's about all the similarities you'll find with a regular sedan, there are certain similarities. With its two-door setup, fabric roof, and S-Cabrio-inspired back, the car's side and rear profiles, easily the best angles of the vehicle attract a lot of attention.
Hire Stylish Benz C - Cabriolet
With the roof off, even though, it's a different situation since people will start following you around and snapping photos and selfies with you. Equally important with posh comes style and with style comes respect. Indeed the fabric roof, which comes in black, dark brown, dark blue, and dark red, can be raised or lowered in 20 seconds at up to 50 kilometers per hour.
When the roof is dropped, the C-Cabrio incorporates Mercedes-button-activated Benz's Aircap technology, and you want to move quicker. It sets up a screen behind the rear-seat headrests likewise an air deflector on the pillar above the windshield. Even so, there's not much difference in the front seat because there wasn't much turbulence even with the Aircap system turned off.
The C-dashboard Cabrio's and center consoles are identical to those of the C-Class sedan and GLC. It appears to be relatively modern and high-end, with great attention to detail.  All in all the build quality is excellent as one would expect. However, all of the seats are brand new.
Correspondingly there's also enough rear legroom for two persons to sit comfortably. With the front seat pushed forward and the roof folded away, afterward the back passengers can stand up and step out of the car gracefully rather than squeeze out. Although having ample room for four passengers, the boot does not have enough space to accommodate their luggage.
Rent Power Full Benz C - Cabriolet
The 2.0-liter turbocharged petrol engine found in the basic C-Class and GLC is used in the C300 Cabriolet. At any rate, this engine produces 245PS at 5,500rpm and 370Nm of torque from 1,300 to 4,000rpm, just like the GLC. As a result, power delivery is both immediate and linear.
It took 7.1 seconds to accelerate from 0 to 100 kilometers per hour. The free-revving engine is quiet at the same time smooth in the lower rev range, but as it passes 3,500rpm, it emits a pleasing raspy noise. In Sport and Sport modes, equally also gets a little louder giving an enthralling experience.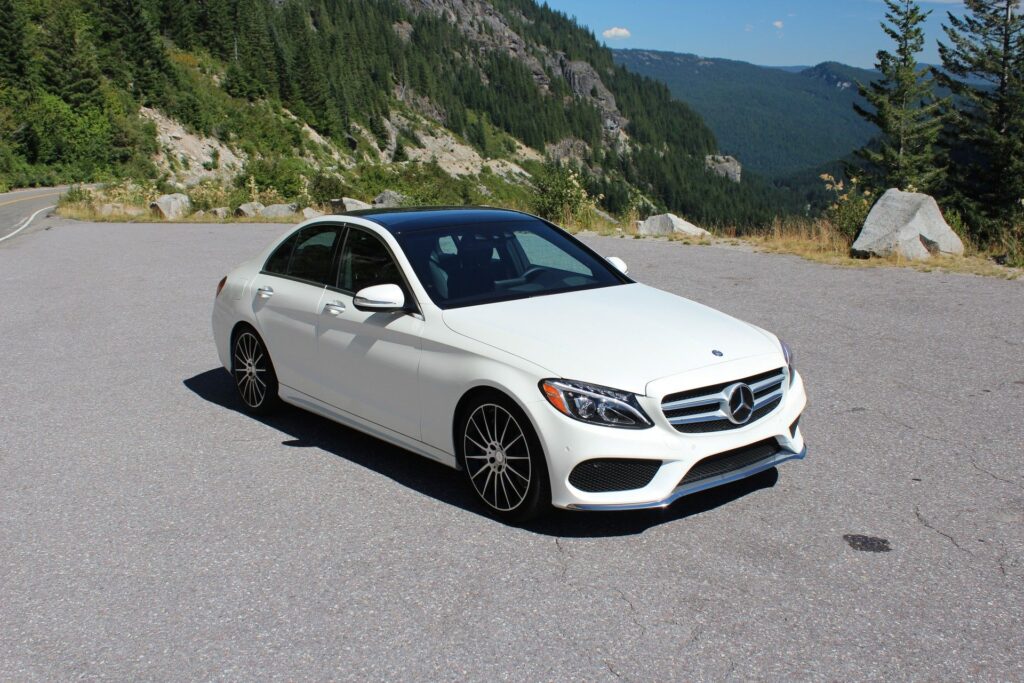 To put it differently, these modes change throttle and steering sensitivity, engine responsiveness, and shift locations in the transmission. To repeat, the 9-speed automatic responds quickly to throttle inputs, so the paddle shifters aren't necessary for quick gear changes.
The car is easy to drive about town in Eco and Comfort mode, with attention to gentler throttle sensitivity and lighter steering. It is even pretty efficient for working together with 2.0-litre turbo petrol in Eco mode. In the city, it got 7.39 kmpl, while on the highway, it got 12.68 kmpl. But, let's face it; driving in those modes can become monotonous, especially on open roads.
When you switch to Sport mode, seeing that the gearbox and engine will respond more quickly, makes for a more enjoyable drive. The quick response will enhance a smooth drive.
Sport, on the other hand, can be a pain to work within everyday driving situations. While dealing with traffic and constantly dodging potholes, unquestionably the car feels uncomfortably twitchy as the throttle becomes highly sensitive.
Benz C - Cabriolet Luxurious Sedan
The C-Cabrio isn't a sporty car or a luxurious sedan. That is precisely the quality of its action. Firstly, the ride isn't as firm as the C 63S; what's more, it's also not as comfy as the standard C-Class sedan Rental.
Hence, the C-Cabrio is quite supple over the city's fractured tarmac and minor potholes. However, anything more will result in loud thuds. The stiff suspensions and frequent hammering cause the squeaks and rattles I mentioned before. Hire from us the best Benz – C Car for your needs.
Take the case of speed breakers which might sometimes be challenging. Since sports car has a low ground clearance it is really a challenge. That is to say, it breezes through most of them with ease — just long enough to make you feel confident and reckless.
On the whole, you won't slow down enough at the next speed breaker, provided that you'll be grimacing at the terrible scrape of the underbody. Driving the C300 Cabriolet is exhausting, particularly in Indian weather. The continual acceleration and deceleration to dodge potholes so long as the speed breakers make the journey somewhat weary after the drive.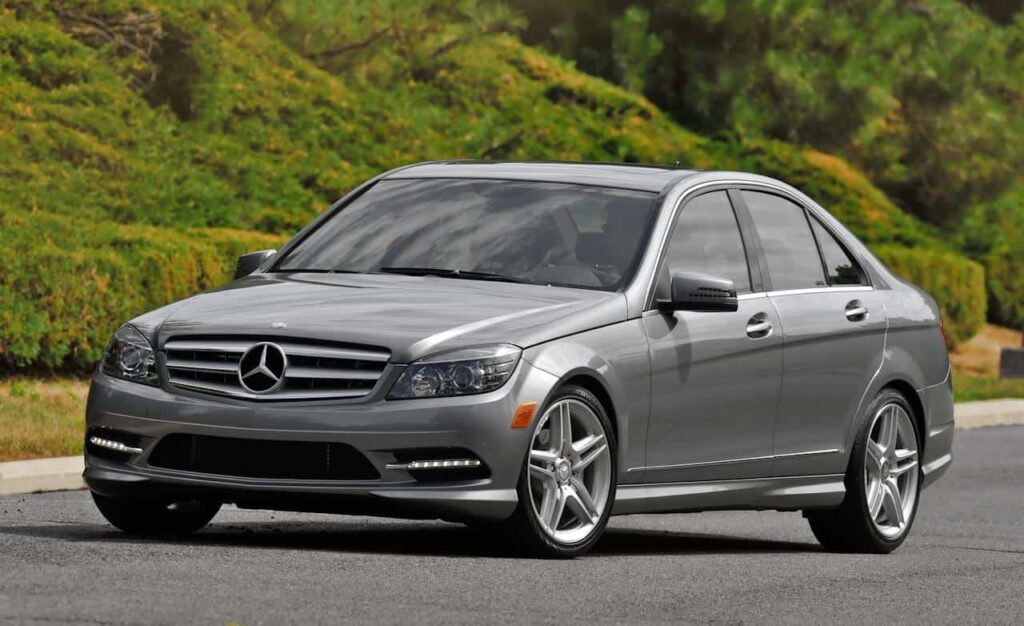 However, give the car some smooth twisting roads, and you'll forget how much labour it can be. Good roads with this vehicle can be an astounding combination. Then again the direction change is quick and precise; altogether the cornering grip is very secure.
The 225/50 Pirelli Cinturato P7 tyres on the 17-inch wheels are designed for efficiency rather than performance. However, they do a decent job of keeping the car in place around turns, until now steady and ready to go.
Up to the present time Mercedes deserves credit for providing reasonably sized tyres that provide more comfort and grip, without which the ride quality would have deteriorated.
Memorable Experience Rental Car
In short, the C Cabriolet does an excellent job of bridging the gap between the thrilling feel of a sports car and the practicalities of a luxury sedan.
To clarify this combo is sure to give a memorable experience for all its riders. Still, the lack of storage capacity and low ground clearance keep it from being the big Tourister one can had hope for.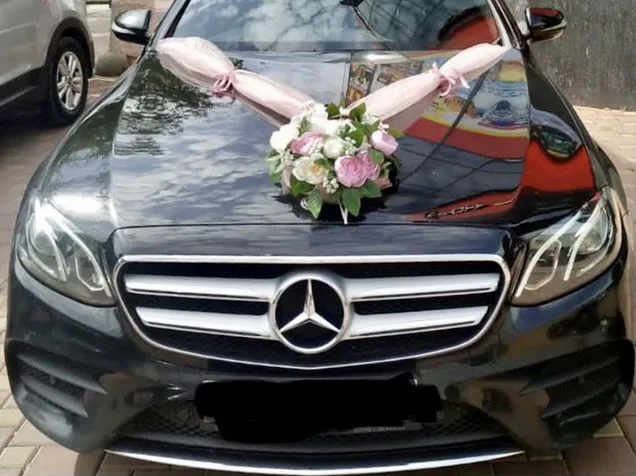 In Chennai, Sri Ram Cars have launched its own wedding and events car rental company. In this situation, we are constantly striving to improve, so we have introduced wedding car rental services in Chennai due to handling all transportation needs during the gala event.
Moreover, our courteous drivers are going above and beyond to keep our guests safe and secure. On the whole, our decade of driving experience will come in handy when providing you with first-rate chauffeur services on your wedding day.
It must be remembered that rent wedding cabs from Sri Ram Cars on account of letting us handle the transportation while you relax with your loved ones.
Elegance Benz C - Cabriolet Rental
Obviously, Sri Ram Cars' automobiles redefine elegance and defy comfort. Surely Newspapers, mineral bottles, tissue boxes, and uniformed chauffeurs are found in every vehicle.
The high-end vehicles are served together with juices, specific publications, cafes, chocolates, and much more for corporates, notably top management. In other words, you will be able to do more with us than merely rent a car for your vacation.