Searching for a luxury Fortuner car for rent? Hire from us The Best Fortuner Car Rental.
[contact-form-7 id="29230" title="Contact form 1"]
Fortuner Car Rental Different services
Fortuner Car Rental booking for the welcome bridal event from us. It could be the best for the wedding. As a result immense pleasure and joy to the bridegroom and their parents and guests. Additionally, with its elegant appearance and beautiful features. After all, the luxury SUV will make the day unique for the bride. To be sure the significant attraction of her wedding traveling in the Fortune car. 
Our Fortuner is for rent in Chennai for the welcome bridal event. Especially, makes your Bridal welcome events more memorable. Forthwith their experienced service, they bring out the best of Toyota to the brides. Hence a pleasure to start a new married life the best way possible.
Silver & Small screen Film Productions
That We provide the best Toyota Fortuner cabs rental in Chennai. Equally, for all silver and small film production travel needs. Identically, with years of experience, we know the big and the small screen actors, directors, and producers. Likewise, other technicians are needed in Chennai and its outskirts.
Occasionally, our Toyota Fortuner car rental in Chennai for the film personalities is the best. Even though, they could ask for all the luxurious facilities to go to shooting spots, recording theaters, functions, and other events.
Formally, we offer a fantastic Fortuner car for rent in Chennai for all airport transfers. So it may be to Tirupathi, the IT companies, Sabarimala, Golden Temple, and Navagraha visit. Even more Ooty, Kodaikanal, Yercaud, and many more.
As well as, the Fortuner car rented in Chennai by Bridal Car Rental Chennai provides the best service. Altogether by airport transfer to their meeting place for foreign delegates visiting Chennai. And Finally, if they want to relax in Mahabalipuram or Pondicherry, we offer the best Fortuner car rental in Chennai.
Travel Arrangements For Corporate Events
Particularly Fortuner car rental makes these delegates feel at home. Overall the luxury SUV's four-wheel drive and excellent exteriors and interiors. Specifically, make them comfortable and safe with the airbags.
Many corporate companies in Chennai hire Toyota Fortune car for all their events only from us simultaneously. Because of the trust, we have created over the years with dedicated service and without any hassles. Whatsoever to make all corporate events a grand success.
Fortuner Car Rental Luxury Tour
Going on a tour is fun for all people without exception to enjoy life. Therefore, without the daily worries at the office and home.
Thus they will remember the places they visited during the tour. And also the Toyota Company's luxurious SUV, Fortuner, for a long time. To clarify we offer our customers the best Fortuner Car Rental services at affordable rates.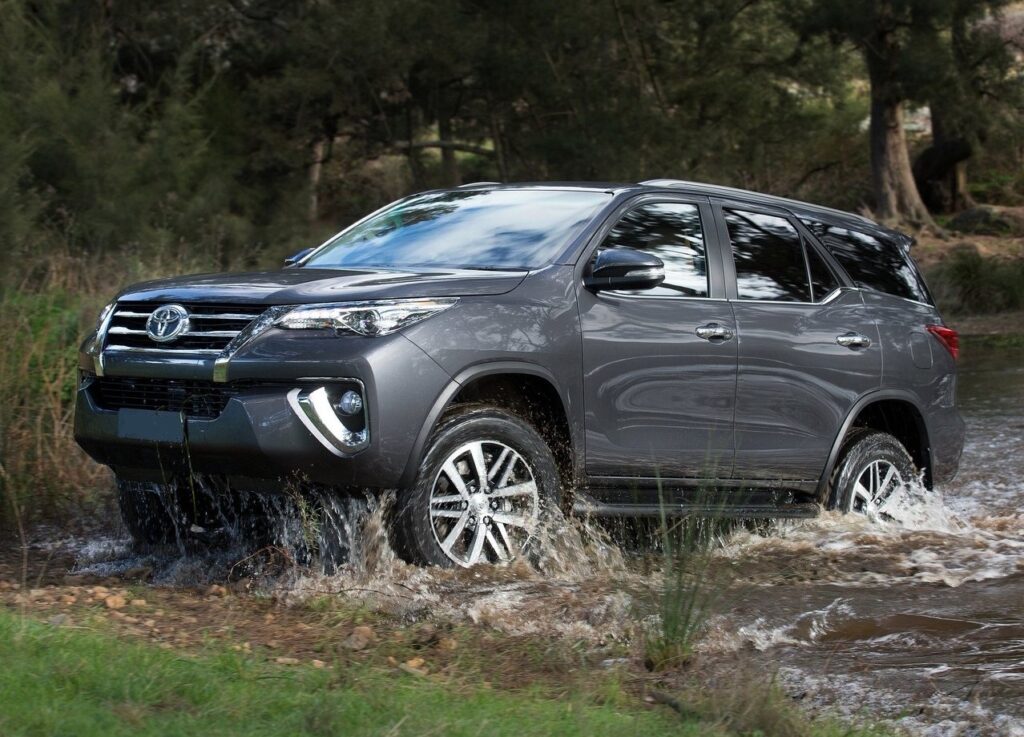 Secondly, with a Toyota Fortuner Car rental, you will be ready for anything. Presently, this iconic vehicle has made its name. Through its reliability and expert handling in various road and weather conditions.
Make some special memories while enjoying. An unforgettable driving experience with a Toyota Fortuner car rental once in a while.
Why you should hire a Fortuner from Us
For passionate car enthusiasts, driving a Toyota Fortuner is a dream. Whether you can afford the Fortuner or not, you can always hire it from us at pocket-friendly prices. Since you are supposed to drive the car on your own. This time, you don't need to pay for the driver, and it cuts down the costs significantly. 
Moreover, when you do not have an outsider in the car. Then again you get more freedom to drive and privacy to talk with your family and friends. You can move the Toyota Fortuner for as many kilometers as possible. Because Sri Ram Cars do not curtail your liberty to drive for unlimited distances.
When you are packing for your road trip, you may not have the time to pick up the Self-Drive Car. However, you can always choose to have the Toyota delivered to your doorstep if you do not have time.
Then again, Toyota Fortuner is an SUV or sports utility vehicle. So as to say chamois color interiors and six-speed sequential AT or automatic transmission. In detail high-end luxury SUV that offers all the features. Likewise style, comfort, and safety rank very high in all these areas.
Car rental services are a convenient way to get around. Without using your vehicle or using public transport. With a car rental, you can explore a city on the whole. Only if take a much-needed road trip and make spontaneous getaways possible. Shortly, gone are the days when owning a car was a necessity. Certainly, choosing a car hire gives you all the mobility and privacy you need without digging deep into your pockets.
Sri Ram Cars offers the best luxury Fortuner Car Rental in Chennai. Whether for a wedding, a special occasion, traveling to a dream destination, or wanting to impress your clients. Whereas highly recommend that you travel in a luxurious SUV like Toyota Fortuner. To that end that when you reach the goal, you are not tired.
Benefits of Fortuner Car Rental from Sri Ram Cars?
It has full performance capabilities. Similarly, the Toyota Fortuner is revered for its top-of-the-line sophistication. Explicitly luxurious comforts in its spacious cabin. Turn heads with its bold exterior design by all means. Exciting LED lighting and chrome details are just a few styles. Comparatively, highlights that make this SUV stand out.
The Toyota Fortuner comes fully equipped with all you need. While for a comfortable ride to complement its exceptional drive. For instance, three rows provide seating for up to 8 passengers.
Generally, its configurable cabin allows you to adjust the interior as needed. Easily accessible front and rear door storage pockets. Lastly, 12 cup and bottle holders, also help facilitate a smoother ride. 
Solid and Safe Rental Car
Markedly, the confidence of Toyota Fortuner drivers is no coincidence. After all unrivaled by other vehicles in its class. Basically, the Toyota Fortuner is famous for its exceptional abilities. Contrarily, it's an 8-speed Electronically Controlled automatic Transmission with intelligence (ECT-i).
Adjusts quickly to current driving conditions earlier. While the Kinetic Dynamic Suspension System offers optimal traction. A solid frame and a suite of driver and safety systems round out this rugged SUV.
When you book our Toyota Fortuner car on rent from Sri Ram Cars. Though, the rates depend on the distance of the journey, and the time of the trip. Whether it is an outstation or just a pickup and drop facility from the destination of your choice or airport.  To clarify contact us for the best offers!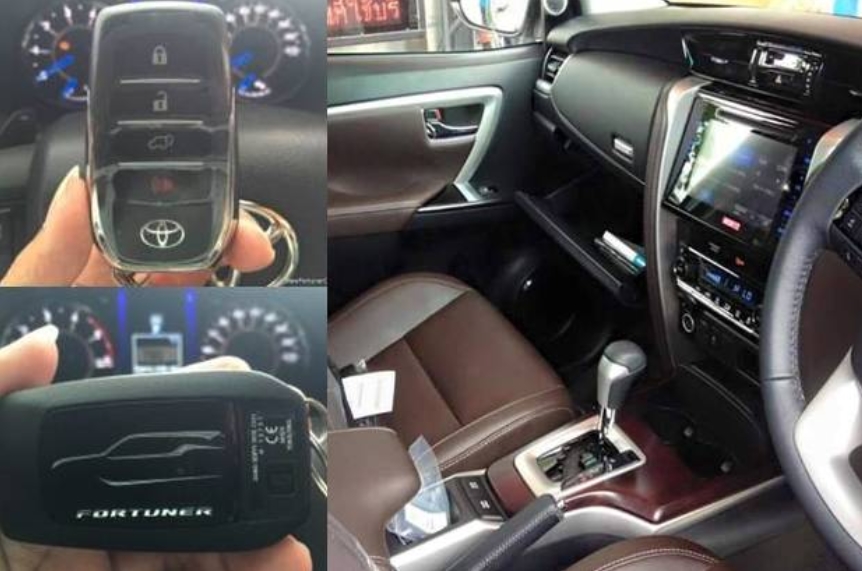 Fortuner Car Rental - Pricing
Metropolis Trip
Convey Amount

Periodic Package 

8 –  Hours and   Km  – 80

10,000

Bridal Package

8 – Hours and  Km – 80

10,500

Additional Hours

(Above 8 – Hours)

1000

Additional Km

Above coverage

100
Wedding Decoration Price – Basic
1900

Out  Station Trip

Convey Amount

Price / Kilometers
100
Drivers Tariff
500
Schedule day
550
Toyota Fortuner Car - Features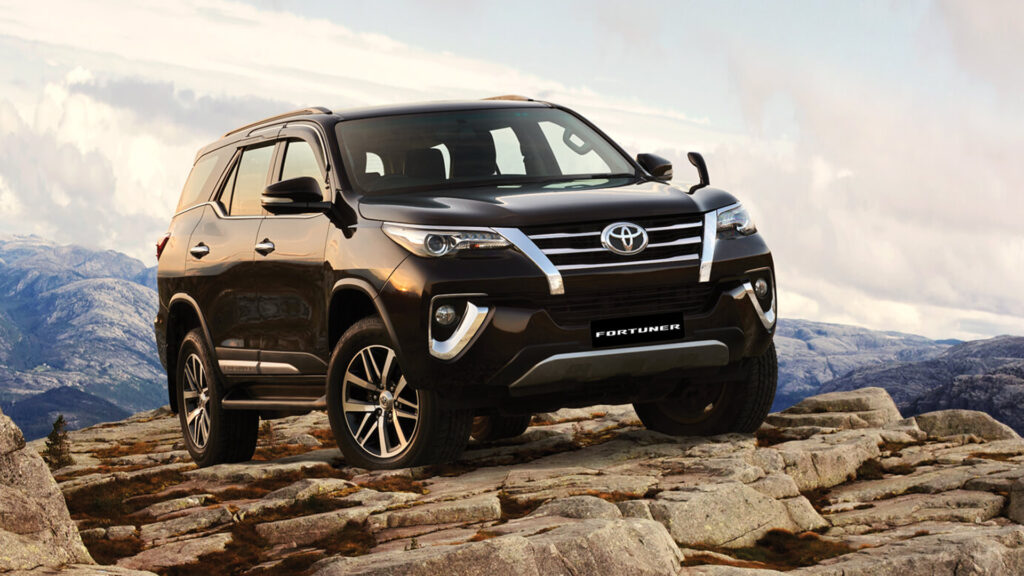 SUV Toyota Fortuner comes with a whole range of features that genuinely defines a luxury.
Besides, Toyota Fortuner comes with a high-end engine of 2.8L. Accordingly, that delivers the super performance that you are looking for.
4WD comes with an option of 2WD as well as based on your requirement.
Certainly, it comes with leather upholstery, eight-way power-adjustable driver seat. Then 7.0-inch touch screen infotainment system with navigation, and one-touch-tumble second-row seats.
The SUV also gets features like stability control, and hill-hold assist.
Most important, stunning Alloy wheels.
Such as Fortuner Toyota comes equipped with seven airbags and ABS in terms of safety.
Fortuner Car Rental For Self Drive
If any of your friends have owned or driven a Toyota, you must be aware of the top-notch quality of this beast of a car. Whenever Fortuner is an image-builder vehicle that makes people roll their eyes when you drive it on the road. Finally, just too few to say that the Fortuner is perfect for a road trip, even on harsh terrains. Further, the car's spacious cabin is comfortable to travel for a long time. 
AC vents and charging points in each vehicle row make the journey tremendously convenient. Even if the tailgate of the Fortuner operates electrically. Whether is a bonus point for the passengers sitting in the last seat. The six-speed automatic gearbox lets you shift gears manually and automatically. Which is a rare feature for sure.
Afterward, the braking system and other safety features of the Toyota Fortuner are impressive. And also they play an essential role when you are on the road for a long time. So, when you have decided to travel in and around Chennai with your family or friends as a group. Besides, Sri Ram Cars highly recommend hiring a Toyota Fortuner for a comfortable, safe, and exciting journey. 
As there are many exciting places worth visiting in and around Chennai. Consequently, we have put down some of the attractions of Chennai for your convenience according to the season.
Fortuner Car Rental Luxury
Why choose Toyota Fortuner Car Rental from Sri Ram Cars
To be sure, Travelers' safety is our priority. So we ensure that once you book your Toyota Fortuner cab on rent.
Now that, you get a car that goes through a quality check before setting on a journey. This ensures your safety and no delays in your journey.
Of course, we have only the new Toyota Fortuner SUV cab.
Accompanied by a professional well knowledgeable driver to assist you through your journey. Even so, who has better knowledge about the locals
Punctuality is our virtue, we see that the Toyota Fortuner SUV cab you booked on rent reaches you on time.
However, we give special attention to the comfort of our customers. Especially, who have booked the Toyota Fortuner SUV cab for rent.
Furthermore, all the drivers are trained on safe driving and adhering to traffic rules.
At last whatever your destination, book a Toyota Fortuner SUV cab from us. To ensure a comfortable and safe journey.