[contact-form-7 id="29230" title="Contact form 1"]
Overview of the Benz E – Class Rental
Basically, Mercedes-Benz upgrades the E-class lineup with modest changes. In fact, all models now come equipped with automatic high-beam headlights. Moreover, several new paint colors are also available. Specifically Nautical Blue metallic, Starling Blue metallic, Manufacturer Moonlight White, and Manufacturer Starling Blue metallic are among the new colors.
However Blind-spot monitoring, a fully digital dashboard, heated front seats with memory settings, an infotainment system with Apple CarPlay and Android Auto, and passive entry are all standard features. 
Accordingly optional air suspension, head-up display, heated steering wheel, multi-contour front seats with massaging capabilities, and ventilated front-seat cushions would be added to that list.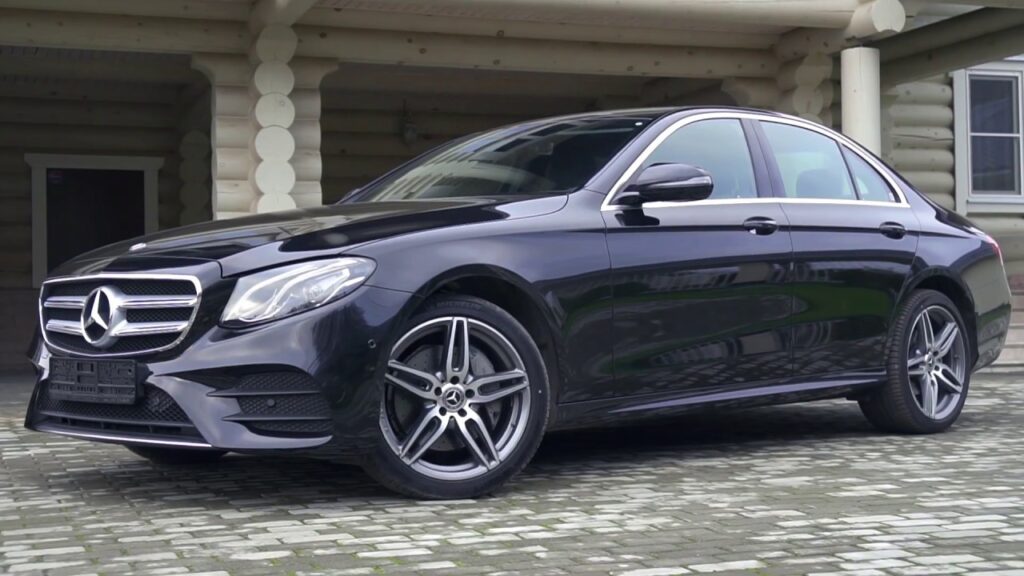 Sri Ram Cars have our Benz E – Class available for the following
Moreover, the 194bhp/320Nm 2.0-liter turbocharged four-cylinder engine in the E-Class 'E200' petrol we have in our evaluation drives the rear wheels through a nine-speeder auto transmission that pairs with three different engines.
Hence this one is just as refined as most petrol. However, driving is extremely entertaining due to the plethora of power available. Likewise, the 9G-Tronic gearbox is partially to blame for how powerful it is over the power spectrum.
Benz E - Class Rental Engine
In fact, except for a slight latency in kick-down conditions, this gearbox intelligently utilizes its nine speeds to provide precisely the appropriate amount of oomph when required.
Indeed this is very useful when doing a rapid overtake. Plus, because there's so much power spread across the revs, it glides effortlessly in the triple digits at low RPMs, making mile-munching a breeze.
Power Benz E - Class Rental
Significantly it boasts a four-cylinder turbocharged engine that produces 255 horsepower and 273 pound-feet of torque. In either case, it can be used with either rear-wheel drive or all-wheel drive. Whereas a turbocharged inline-six-cylinder engine with a 48-volt hybrid system that also serves as an electric supercharger to power the car;
so all four wheels receive 362 horsepower and 369 pound-feet of torque. Because the E-class is designed for comfort, its handling is decent but not sporty. When pushed hard, it leans in corners, but it rarely seems overloaded.
Benz E - Class Rental Silent
Whether in congested city traffic or on the highway, we soon discovered that when this Mercedes 9G-Tronic box is left to silently do its own thing in the background, it puts its best foot forward.
Indeed with so little wiggle room, there's no reason to use the paddle shifters unless you want to light the highways on fire aimlessly in a limousine.
Comfort Benz E - Class Rental
Significantly the E200, of course, has driving modes including Eco, Comfort, Sport, Sport+, and Individual.
While as one switch from Eco to Sport+, the reactions sharpen, as does the operation of stability control, resulting in better traction on the road. Call me a knucklehead, but I'll take the Sport+ any day of the week.
Cabin Benz E - Class Rental
Moreover the ride is creamy with the optional air suspension set to Comfort, and the E-class is ideal for consuming a lot of roads. Also it glides over cracks in the pavement with barely a sliver of information relayed to the cabin.
In fact the steering is pleasantly weighted—not too light, nor too heavy—and feels accurate when the drive-mode choice is set to either Comfort or Eco. So on the freeway, the E-class tracks straight with a strong and reliable nature, and road feedback is minimized
Accordingly let's start with the second row since this is the E-Class with the big wheelbase. So With an extra 140mm in length over the normal car, the left occupant may not only fully recline the twin back seats, but also push the front passenger seat forward to stretch out even more. Although our photos also show that both back passengers have plenty of head and legroom.
Specifically Another appealing feature is the removable tablet, which uses the same MBUX user interface as the entertainment system upfront and is ideal for rear-seat passengers to handle the vehicle's numerous functions.
Without a doubt, the E series will not disappoint when it comes to getting behind the wheel. All things considered, there's something about the combination of beige upholstery/cabin materials, stunning black ash wood trim, and endless amounts of soft-touch ornamentation that casts a spell on your mind.
Hence the fit and quality, as well as the ergonomics, are just outstanding. Also, the seats themselves are exceptional, and now and then you can't help but reflect on how wonderfully they cocoon your driver!
But, until we get tired of it, the dual 12.3-inch full HD screens on the left and the instrument cluster on the right have to be the second most impressive feature of the E-Class after rear-seat comfort.
Thus, in a nutshell, they're simply great, with stunning graphics, extensive customization, fast processing speeds, and responsive touch. Furthermore, all controls are accessed through the steering wheel.
While most of these also apply to the left-hand infotainment touchscreen display, it can also be accessible via the touchpad and voice commands, and it is Apple CarPlay/Android Auto compatible. Especially the 12.3-inch touchscreen infotainment system may be controlled in a variety of ways, including via a touchpad on the center console and voice commands. Despite the numerous options, the interface is not as user-friendly as its predecessor, which included a handy rotary controller on the center console.
Although the upgrade to a strong Burmester stereo and wireless charging if you want finer features. However the smartphone software 'Mercedes Me' has pre-cooling or pre-heating the cabin, choosing the ambient light shade, music control, emergency call services, and honking if you're attempting to find your car in a parking lot, among other things. Meanwhile, Google Home and Alexa are also supported!
Generally, the famous air suspension is only available on the top-spec E350d version, which may come as a surprise.
However, the E200's slow-speed ride quality is now on the stiffer side. Moreover, the suspension noise, which is particularly noticeable over a rough area, is the major downer.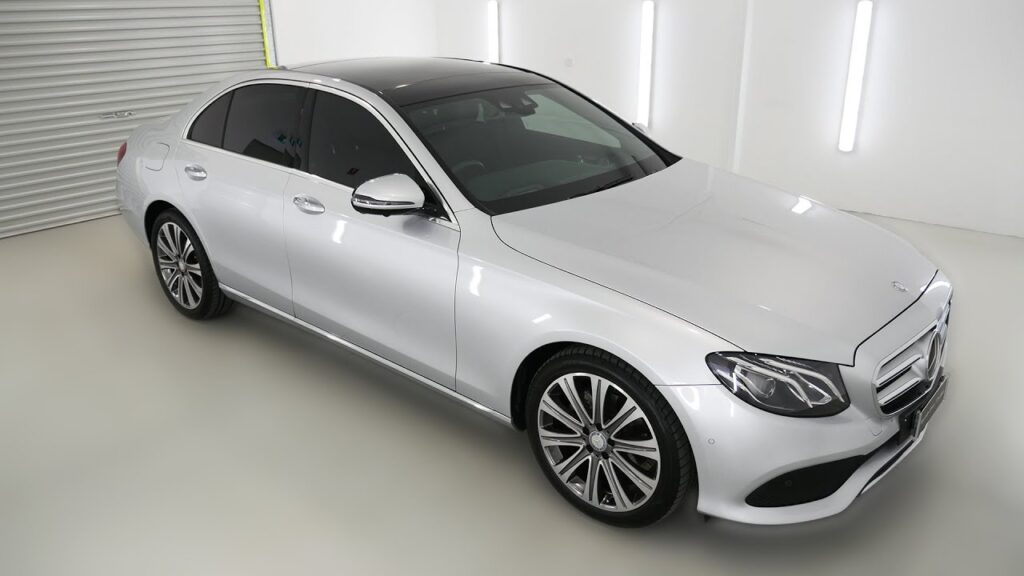 Altogether this, combined with the E-longer Class's footprint, provides it with excellent straight-line stability. However, with comfort as top brass, the extra length was never going to make it a corner carver.
As a result, the steering has a great heaviness to it, but with so much space behind you, it's best to plan your motions for a relaxing drive. This car will give you ample space to keep your memories as it is comfortable to drive and enjoy.
Moreover, with rear-wheel drive, the four-cylinder E350 got 22 mpg city and 31 mpg highway, while with all-wheel drive, it got 22 mpg city and 30 mpg highway.
Specifically, with ratings of 23 mpg city and 30 mpg highway, the more powerful E450 model is equally as efficient. Also, we'll be able to assess real-world mpg once we've had the opportunity to test the various powertrains on the 75-mph highway fuel-economy test route.
Although many driver aids, such as autonomous emergency braking and blind-spot monitoring, are standard, most other features are optional. In detail, Active braking assist, auto parking aid, 360-degree camera (AMG line only), 'Pre-Safe' noise dampening protection for your ears, and tire pressure monitoring are among the E-safety Class's features.
Also, seven airbags, ISOFIX child seat mounting points, ABS with EBD, traction control, and an electronic stability program are standard on all E-Class models. Meanwhile, the following are important safety features that they are following to ensure your safe drive.
Features of Safety Rental Car
Alsoit's possible to get adaptive cruise control with stop-and-go technology.
Lane departure warning and lane-keeping assistance are both available.
Automatic high-beam headlights are available.
Altogether The E-Class receives a new face in 2021, which includes multi-element LED units and a big hood with jagged ridges that can be seen from the driver's seat.
Thus The grille is also new, and it looks similar to the Panamericana grille found on Merc's performance models. Also, the double-spoke alloys and big ring of chrome around the window area are the only changes in this E-profile.
The wraparound tail lights with internals that appear stunning when lighted up, and the abundance of bling (chrome) that can even put the jewelry trade to shame, is the major improvements at the back. Specifically that's pretty much the top and bottom of it.
Clearly, Sri Ram Cars offers a variety of car rental services, ranging from budget to luxury. Overall the company offers a diverse choice of car models from which you may select the finest option for your budget.
In fact, it will be affordable and give a great experience for you. Whereas we offer cab booking services via phone calls, our website, and our mobile app.
Sri Ram Cars is a one-stop-shop that focuses on providing high-quality servicing as a matter of fact maintenance to keep clients safe. To all of our users, we basically provide the greatest possible travel experience. Another key point is that the chauffeurs are well-versed in the routes and can speak both English and Hindi, as a result ensuring that you have a pleasant driving experience with us.
Moreover, Mercedes GLA, Benz E series, and other basic models are available. Obviously, we also provide the most cost-effective options, as well as packages for half-day, full-day, and outstation travel. In brief you might also get large discounts if you sign up for services for a long time.